Welcome to Ace Self Storage in Simi Valley, CA
Find Simi Valley Storage Units At Great Prices
Office Hours
Monday – Friday 7am to 6pm
Saturday – Sunday 9am to 5pm
Closed Major Holidays
Access Hours
7 Days a Week 6am to 8pm
Closed Major Holidays
Simi Valley Storage Reviews

"Very happy to have been referred to Ace Self Storage Simi Valley by my good friends. Very clean environment and manager Lili is friendly, informative, helpful and completely knowledgeable about every question I had! I feel my "stuff" is in good & safe hands! Thanks!"
Kathy Thompson

"Easy move out without extra fees. Friendly, helpful staff. Regional manager was also available if needed. Well run business! Thank you."
Andrew Lauhoff

"I came in today & Jessica was quick with attentive service. I reserved & paid for my unit right away. There are always great move-in specials. The place is always clean & your things are safe here."
Andrew Croley
Ace Self Storage Simi Valley
Our Simi Valley storage units are located on Tierra Rejada Rd, near Madera next to the car wash and across the street from Target.
At Ace Self Storage in Simi Valley, CA our goal is to provide you with the best local self storage experience possible. Are you serving in the military, need a self storage unit for your Simi Valley business, going away to college, moving to a new home or just need to free up space in your garage? We have a storage unit to meet your needs.
All Simi Valley self storage unit rentals are month to month with many convenient features such as 7 day access, online bill pay and a great selection of boxes and moving supplies.
Ace Self Storage is family owned and operated out of Southern California with over 30 years in the mini warehouse and self storage business and we would love the opportunity to serve you here in Simi Valley!
We serve these zip codes self storage in Simi Valley: 93062, 93063, 93064, 93065, 93094, 93099.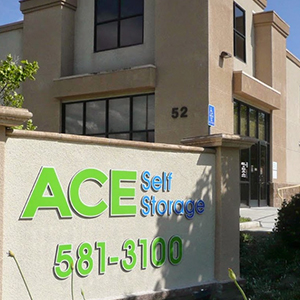 Get the best features with Ace Self Storage.
Knowledgeable Friendly Staff
Knowledgeable Friendly Staff