In today's fast-paced world, space is a luxury. Whether you're downsizing, decluttering, or simply need a safe place to store your belongings, a self storage facility can be a lifesaver. But not all storage solutions are created equal. The right choice can make your life easier, while the wrong one can lead to costly mistakes.
That's where Ace Self Storage comes in.
Choosing the Right Self Storage Facility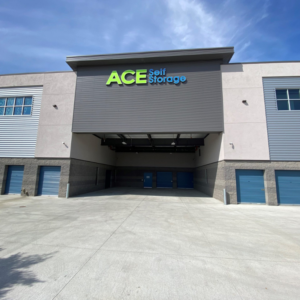 Understanding Your Storage Needs
Before you can choose the right self storage facility, you need to understand your storage needs. Are you storing furniture, personal items, or boxes of documents? The type of items you're storing will determine the size of the unit you need. For instance, a 10×10 storage unit can comfortably fit the contents of a one-bedroom apartment, while a 10 by 15 storage unit is more suitable for a two-bedroom house.
Choosing the Right Size
Size matters when it comes to storage units. Too small, and you won't have enough space for all your items. Too large, and you're paying for space you don't need. At Ace Self Storage, we offer a variety of sizes to suit your needs. Our online tools make the process of choosing the right size painless and efficient.
Packing Efficiently
Efficient packing is key to maximizing your storage space. Start by packing heavier items in smaller boxes and lighter items in larger boxes. This makes it easier to stack boxes and prevents them from collapsing under weight. Remember to label all boxes clearly for easy access later.
Safety and Security Features
When it comes to storing your belongings, safety and security are paramount. Ace Self Storage facilities offer 24-hour surveillance and secure access to ensure your items are safe. Our locations are well-lit and monitored around the clock for your peace of mind.
Top Self Storage Mistakes to Avoid
When it comes to self storage, avoiding common mistakes can save you time, money, and stress. Here are some of the top mistakes people make and how to avoid them:
1. Not Researching Storage Facilities
Not all storage facilities are created equal. It's important to research and compare facilities before making a decision. Look for a facility like Ace Self Storage that offers secure, clean, and accessible units.
2. Choosing the Wrong Size Unit
Renting a unit that's too small or too large for your needs can lead to unnecessary costs. Use online tools or consult with storage professionals to determine the right size for your items.
3. Not Packing Items Properly
Poorly packed items can lead to damage. Use quality packing materials and ensure items are packed securely and efficiently. Label boxes clearly for easy access later.
4. Ignoring Security Features
Security should be a top priority when choosing a storage facility. Look for features like 24-hour surveillance, secure access, and well-lit facilities.
5. Not Considering Climate Control
Certain items like electronics, artwork, and documents can be damaged by extreme temperatures or humidity. Consider a climate-controlled unit for these items.
Avoiding these common mistakes can help ensure a smooth and successful self storage experience. At Ace Self Storage, we're here to help every step of the way.
The Ace Self Storage Advantage
Choosing Ace Self Storage is more than just renting a space. It's about choosing a service that values your belongings as much as you do. With locations in Miramar, El Cajon, Lakeside, Simi Valley, and San Diego, California, and one location in Las Vegas, Nevada, we are conveniently located for our customers. Our affordable rates, flexible terms, and exceptional customer service set us apart from the competition.
Ready to unlock more space in your life? Contact Ace Self Storage today. Our team is ready to assist you in finding the perfect storage solution for your needs. Experience the Ace Self Storage difference today!
Our Diverse Storage Solutions
At Ace Self Storage, we understand that everyone's storage needs are unique. That's why we offer a wide range of storage solutions to cater to a variety of requirements. Here's a look at some of the services we provide:
Boat Self Storage
Whether you're a seasoned sailor or a casual boater, we offer secure and accessible storage for your boat. Our spacious units can accommodate boats of various sizes, ensuring they're safe and ready for your next adventure.
RV Self Storage
If you're an RV owner, you know that finding a place to store your vehicle can be a challenge. At Ace Self Storage, we provide ample space for your RV, ensuring it's safe and secure when not in use.
Vehicle Self Storage
From classic cars to everyday vehicles, we offer storage solutions that keep your vehicle protected from the elements. Our facilities are secure and easily accessible, providing you with peace of mind.
Motorcycle Self Storage
Motorcycles require special care, especially when it comes to storage. Our motorcycle self storage units are designed to keep your bike safe, secure, and in top condition.
Household Self Storage
Whether you're moving, downsizing, or decluttering, our household self storage units are perfect for storing furniture, appliances, and other household items. Our units come in various sizes to accommodate your needs.
Military Storage
We're proud to offer storage solutions for our military personnel. Whether you're being deployed or moving to a new base, our military storage options provide a secure place for your belongings.
At Ace Self Storage, we're committed to providing you with the best storage solutions for your needs. Contact us today to learn more about our services and find the perfect storage solution for you.
Conclusion
In conclusion, choosing the right self storage facility is crucial for a stress-free storage experience. With Ace Self Storage, you get more than just a storage unit. You get a dedicated team, secure facilities, and the peace of mind that comes with knowing your belongings are in good hands. Choose Ace Self Storage – your space, your way.